Description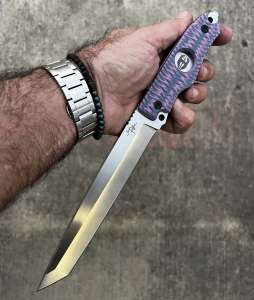 Brian Hoffner designed the most powerful Knife on the planet!  Here's why:
Size Matters – It's got a 7″ long Tanto Blade!
Size Really Matters – It's 3/8″ Inches Thick!
Revolutionary – The BEAST is a pry bar with an edge… a very sharp edge.   We warranty it as a pry bar.  It does it all.  Pry the door, break and rake the glass, chop through the wall.  Outdoors you can chop, baton, entrench.  Whatever your needs, trust the BEAST to get it done.
Grippy – The G10 that we use for the handles is the grippiest and best material that can be put on a knife handle.  It's textured for grip, as well as strong, hard, stain resistant, rugged, waterproof, lightweight, stable, and beautiful.
440C Super Steel – We use the first, and still the best, Super Steel.  The high Chromium content is what makes it truly stainless, it won't rust or pit in your sweaty pocket.  It's hardened to 56-58 HRC, which means that it will take an edge and hold an edge, as well as excellent resistance to wear. This is one tough blade folks!
Breeds Confidence – If you can't get it done with the BEAST…forget about it.
The Hoffner BEAST is a must for every American.  Go forth and destroy! –  Brian Hoffner